Dragnifier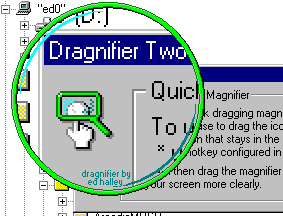 Έκδοση: 2.5 Freeware
Κατασκευαστής: Ed Halley
Κατηγορία: Screen Magnifiers
Αναπηρία: Low Vision
Περιγραφή:
Dragnifier is a simple screen magnifier with limited settings. It works like a magnifying lens that can change the window of a square to circle. This window disappears when the user presses a key from the mouse.
Λειτουργικό σύστημα: Windows 2000, XP
Οδηγίες εγκατάστασης: You do not need installation. Unzip the file Dragnifier.zip and run Dragnifier.exe every time you want to use the software.
Ρυθμίσεις: The settings can be done by right-clicking the icon appearing in Windows system tray (Notification Area). Scale Factor: 2x-8x, Refresh Time: No, Negative Colors: No, Display Grid: No, Move window: Auto.
Κατέβασμα αρχείου: Dragnifier.zip (0.08 MB)
Εναλλακτική ιστοσελίδα λήψης: http://www.halley.cc/stuff/dragnifier.html
Τελευταία ενημέρωση: 17/09/11 12:52