PiLfIuS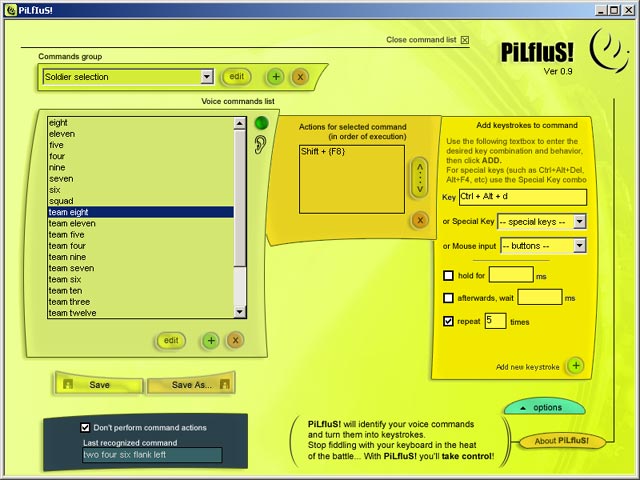 Έκδοση: 0.9 Freeware
Κατασκευαστής: Diego Wasser
Κατηγορία: Speech Recognition
Αναπηρία: Motor Disability
Περιγραφή:
PiLfIuS! is a program that turns the commands you speak into your microphone or headset into keystrokes. Commands, and their respective keystrokes are fully configurable by the user. Unlike many other speech recognition applications, keystrokes sent by PiLfIuS! should be recognized by ANY application, since these programs will not tell the difference between a keystroke sent by your keyboard, and a keystroke sent as a result of your voice commands. PiLfIuS! requires that you have a SAPI 5 compatible Speech Recognition Engine installed.
Λειτουργικό σύστημα: Windows 2000, XP, Vista, 7
Οδηγίες εγκατάστασης: Download and install a speech recognition engine (Microsoft Speech SDK 5.1) if it is not already installed on your computer. First extract the archive pilfius_nonstable.zip and then run the file pilfius_nonstable.exe.
Ρυθμίσεις: From the field CREATE NEW COMMAND LIST (found at the application window) one can: (a) group commands by choosing Commands Group, (b) add voice commands by choosing Voice Commands List and (c) define the combination of keys by selecting Add Keystrokes to Command.
Κατέβασμα αρχείου: pilfius_nonstable.zip (0.93 MB)
Εναλλακτική ιστοσελίδα λήψης: http://www.softpedia.com/get/Others/Miscellaneous/PiLfIuS.shtml
Τελευταία ενημέρωση: 28/09/15 21:15